I don't know how much was perfect planning, and how much was serendipity, but the combination that has been put together at a shopping centre in Swansea, in South Wales, appears to be the answer to a marketing person's dreams.
| | |
| --- | --- |
| At one side of a covered mall, the end structure is a dramatic angular conservatory. Adjacent to it is a Toys-R-Us, and close by a Mothercare, with the rest of the mall made up of the usual mix of stores. | |
| | |
| --- | --- |
| | What is so perfect is that the conservatory is skillfully and attractively laid out, on two main levels connected by a curving path, to portray various plant habitats, with a rich palette of plant material grouped to demonstrate the differences between them. |
There is a climate control system that really works - no doubt at all which is the steamy jungle, and which the arid desert. Everything is labelled, and there is a simple guide to the important plants. Associated with the plantings are a number of rooms with a set of exhibits aimed at the same young audience likely to be visiting the family-oriented shops. Hands-on classes are held

Animals are not forgotten, with several glass cases housing the weird and the wonderful, and most striking of all, a large part of the interior of the conservatory caged off to support a breeding colony of cotton top tamarins, whose antics were delighting the children watching from a path at treetop height. It is obviously a very popular spot for mothers with their children and for school groups, to judge from the stream of visitors there while I was visiting.
The staff are accomplished crowd-pleasers in explaining their success with the monkeys, and I was extremely impressed by the standard of plant maintenance, by the diversity of the collection and by the knowledge of the gardeners.
So who is to be thanked for putting the young-family stores and the enormously appealing conservatory together to the obvious benefit of both? The shopping area was developed by Prudential Insurance, and the conservatory and all the teaching areas are maintained by Swansea Museum Service of the City of Swansea. Whoever had the great idea of citing the conservatory where it is deserves congratulations.
Anyone visiting South Wales would find a morning at Plantasia, as it is known, a very worthwhile experience, and one that I know that I will repeat.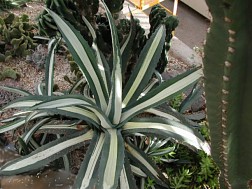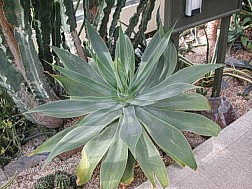 Agave mediopicta and Agave attenuata in the desert area of the conservatory

Back to Table of Contents